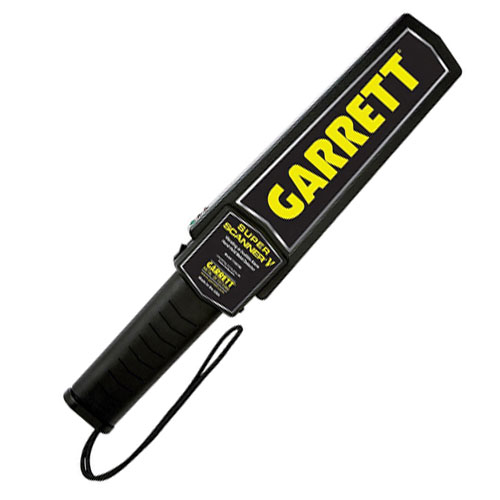 Garrett Super Scanner® V

Hand-Held Metal Detector
Made in the USA
Originally designed for use at the Olympic Games in 1984, Garrett's Super Scanner is the most recognized hand-held metal detector in the world.
Recognized and Trusted Worldwide
In most large venues utilizing security screening, hand-held metal detectors are used to pinpoint targets detected by a walk-through metal detector. Other facilities utilize hand-held detectors as a primary scanning tool. The black and yellow wand made in the USA by Garrett Metal Detectors has been a global standard for decades. The SuperScanner V is trusted to help protect many sports stadiums and multi-use special events facilities. The SuperScanner V is also widely used in many other security screening applications, including: public transportation, loss prevention, airports, corporate security, schools, courts, and prisons.
Features
Ultimate sensitivity: detects medium sized pistol from 9" distance; large knife from 6"; razor blades and box cutters from 3" distance; foil-wrapped drugs and tiny jewelry from 1".
Self-calibrating: digital microprocessor technology eliminates the need for periodic sensitivity adjustments.
Rugged, high-impact ABS case with reinforced coil compartment. Exceeds Mil-Std-810F (drop test) Method 516.5, procedures II and IV.
Large 8" scan surface for quick, thorough scanning.
No tools required to change standard 9V battery (included). Optional rechargeable battery kit available.
Sharp audible alarm and bright red LED indicates the detection of metal.
Momentary push button helps temporarily eliminate detection of nearby ambient metal such as rebar, metal walls.
Three-color LED indication: Green LED indicates ON; Amber LED indicates LOW BATTERY: Red LED indicates ALARM.
Operating temperatures: -35º F (-37º C) to 158º F (70º C)